P7 - Mr Lavery
Welcome to Year 5/6
Year 5/6 is a very exciting year for us here in St. Joseph's Primary School. We'll be covering some fascinating topics including The Ancient Egyptians, The Animal Kingdom and Natural Disasters, as well as learning about the robot world. We will also be investigating a number of real life numeracy problems, and the children will even make their own ancient Egyptian artifacts and clay beetles. This year we also hope to visit some museums to coincide with cross curricular topic work.
Having a keen interest in cross curricular learning, we will be developing vital skills through the creative mediums of ICT, music, sport and drama. We look out for each other in Primary 5/6 and this is lived out through our inclusive and nuturing classroom environment which was created through our class contract at the start of the year.
Here are some key traits of our fabulous Year 5/6 class:
Y OUTHFUL
E NTHUSIASTIC
A CTIVE
R ESPECTFUL
F RIENDLY
I NNOVATIVE
V ERSATILE
E NCOURAGING
/
S INCERE
I NVOLVED
X ENIAL
We have completed our Shared Education programme and what a brilliant time we had with Greystone P.S.
Click here to fill in the survey about how you/your child found the experience:
https://docs.google.com/forms/d/e/1FAIpQLSc82HvFplgFgfUNhM4uJ4mW-xCa_ZHVm4BJJgn8b0m6Xf1OIA/viewform?c=0&w=1
News
15th Jan 2018
Today all the children in the school attended an assembly run by NSPCC. Article 19...

27th Sep 2017
Primary 5 have been busy doing lots of practical Numeracy in class. We have...

Latest Photographs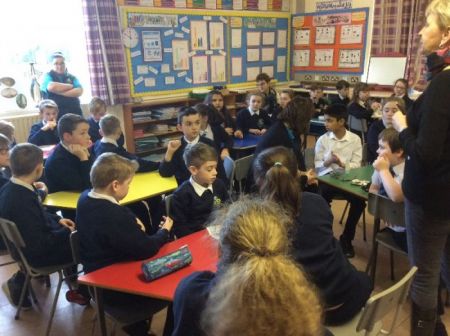 St Joseph's Primary School, 54 Greystone Road, Antrim BT41 1JZ | Phone: 028 9446 2076

WEBSITE BY: SCHOOLWEBDESIGN.NET | Login